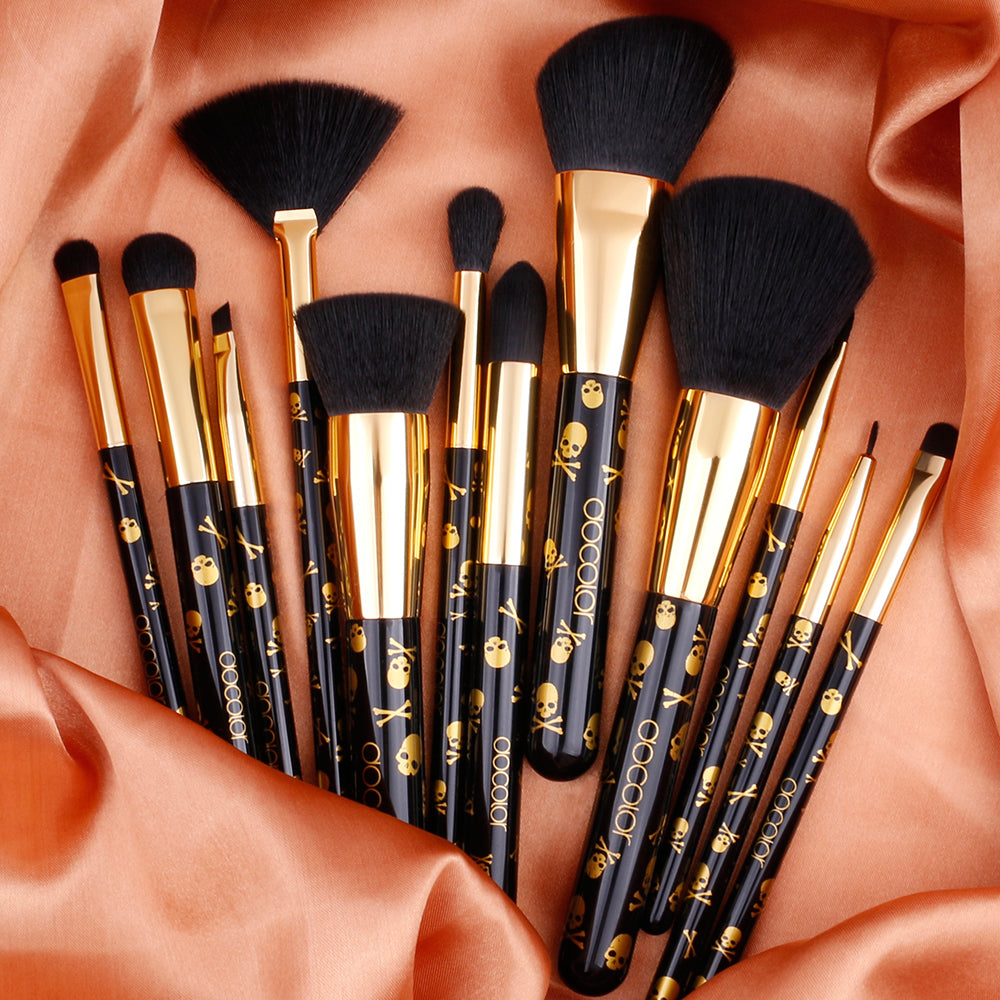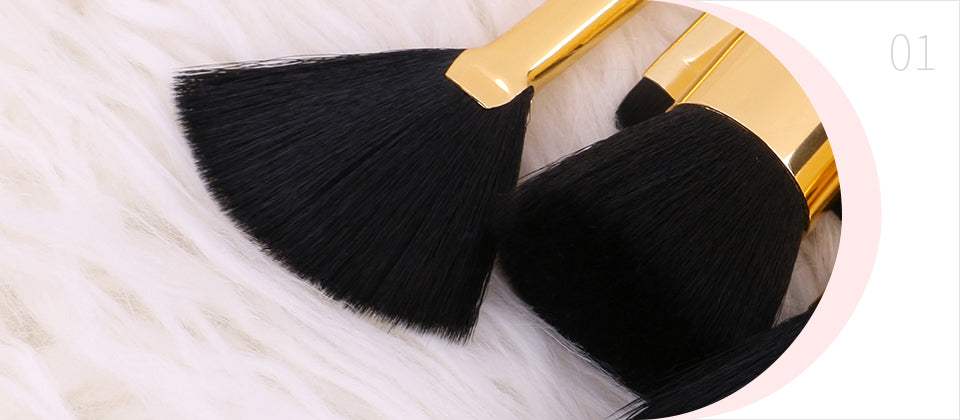 Quick-drying fibrous hair
The soft and dense synthetic fibers provide you an incredible touch and feel.
The fiber's head is refined to provide a soft and comfortable touch.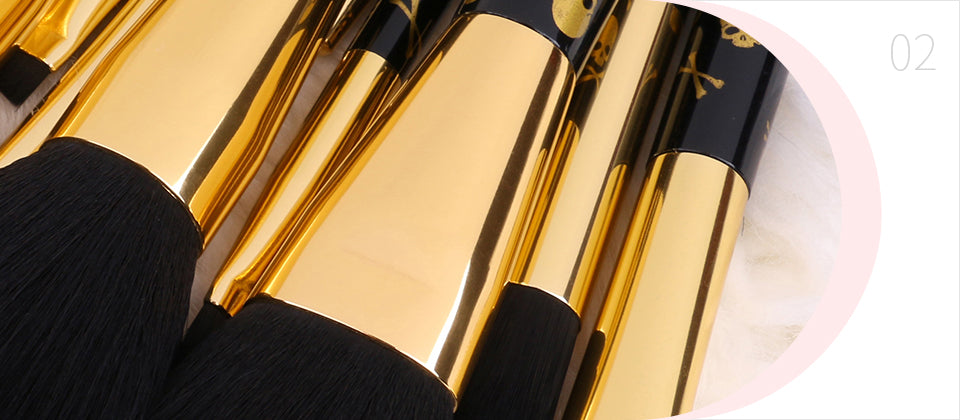 Aluminum tube
Golden glossy aluminum tube.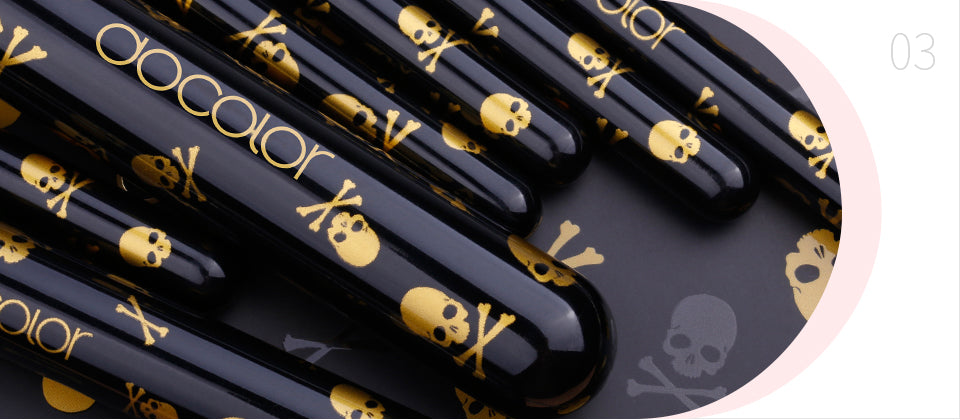 Unique Handle Design
High-quality Unique Handle, The gold ferrule in combination with the skull bones handle looks very chic and unqiue,offering a sense of luxury.

01 Powder brush
Expertly sweep on blush, bronzer, and finishing powder.
02 Blush and Highlight Brush
The brush can be used to do blush and highlighter.

03 Foundation Brush
Apply liquid or cream products such as foundation and primer.

04 Blending Brush
Apply and combine shadow shades.

05 Wide Shader Brush
Use it to smudge darker shades of a smokey eye look.
06 Small Blending Brush
Use it for blending in small areas and creates great detail.

07 Large Eyeshadow Brush
Packs on eye shadows and shades on the eyelid.

08 Small Eyeshadow Brush
Packs on shades in small areas.

09 Angled Brow Brush
Use it to apply liner with precision.

10 Lip Brush
Use it to define lips, soften pencil lines and apply color.

11 Eyeliner Brush
Delivers sharp lines with liquid eyeliner.
12 Fan Brush
Perfect for sweeping on highlight and sweeping away excess powder.
---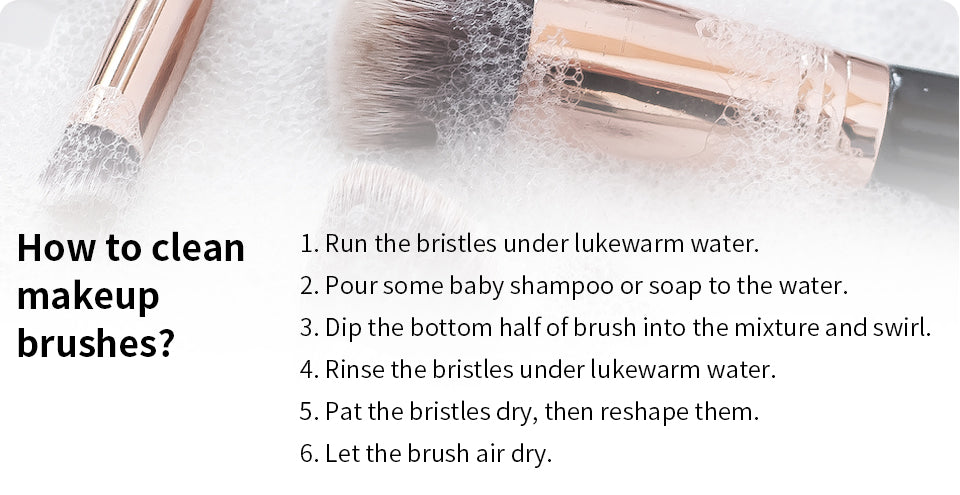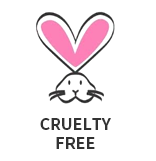 Free shipping for most countries over the world. you will receive shipment notification by email after shipped out.
Free shipping time: 5-15 business days after shipping
Total Delivery Time = Processing Time + Shipping Time
Before shipping your order, normally needs 2-4 days to prepare your products, do strict quality-control tests and carefully package the items, so the processing time is separate from the shipping time.
Processing and shipping time estimates do not account for holidays or non - business days. Shipping costs may increase depending on weight, volume, zip code, and shipping method. Shipping method can be selected at checkout.
Express shipping : 5-15 business days after shipping Express shipping is the fastest shipping method available. The shipping fee will be calculated when you are checking out. (* The customer is responsible for all customs fees when required.)
* Customs fees may be required for some international orders, which will be different in each country. The customer is responsible for all customs fees.
* Please be aware that there is a possibility of shipping delay on all international orders. Due to the different Customs regulations in every country, the estimated delivery time may be influenced. All these are out of our control. * The shipping fee will be available when you are checking out.